GREAT NEWS FOR TOMORROW: Dec 04, 2012 - PLEASE READ - YOU NEED THIS...
I have some great news for you! Because of the highest demand and greatest interest to the Fibonacci systems ( based on my members emails )
- tomorrow Dec 04, 2012 I going to launch absolutely outstanding newest Forex tool: "FIBONACCI MYSTERY". Finally anyone will be able to profit from Forex trading daily, there is simply no way not to make profit with such a great tool!

The "Fibonacci Mystery" will tell you exactly when a global trend reversal points in advance. This software provides the most
profitable signals that you have ever seen... Thanks to mr. Fibonacci! Never lose money again!
The Fibonacci Mystery is a brand new (Dec 2012) complete package Forex software-tool that will show you where to enter a trade, where to exit and where to put a stop loss - You will get arrows, checkmarks, crosses, Sound popup and email
alerts (everything you need to enter a trade without complicated Fibo lines and levels)....

Don't miss the Forex launch of there Year! Keep an eye on my launch email: "FIBONACCI MYSTERY"~ The "Fibonacci mystery" is NO SECRET or holy grail and the Fibonacci numbers is not my discovery - we just found the right way to use it for trading and made automated Forex tool... Thanks a million~ K.


PLEASE USE FACEBOOK I LIKE BUTTON IF YOU LIKE MY PAGE

100% Free Simple Trading System that works!
This free Forex trading strategy can be found on some open Forex sources! I like it, so I decided to share this
system with you, dear traders!
The idea behind this simple Forex trading system is to capture an early move of the price when it starts to establish its new
direction/trend for the day. As we know the Frankfurt market opens at 2:00 am EST (which is 7:00 am GMT), then an hour
later the other giant - London market opens at 3:00 am EST (which is 8:00 am GMT). The European session is the first
major session for each coming day.

So, what do we do? We start with 1 hour time frame, preferred pair - GBP/USD and no indicators.
The price range we are going to focus on is from 1:00 am EST to 2:00 am EST.
We look for the highest high and the lowest low of the price in that range and simply draw parallel
horizontal lines through those extremes that will create a tunnel. Now we are ready to move to a smaller
time frame - 5 minute chart - and watch for the whole 5 min candle to close outside the tunnel which will
provide a signal for us to enter with the open of the next candle. We use a 20 pip stop OR the other side of
the tunnel - whichever is less.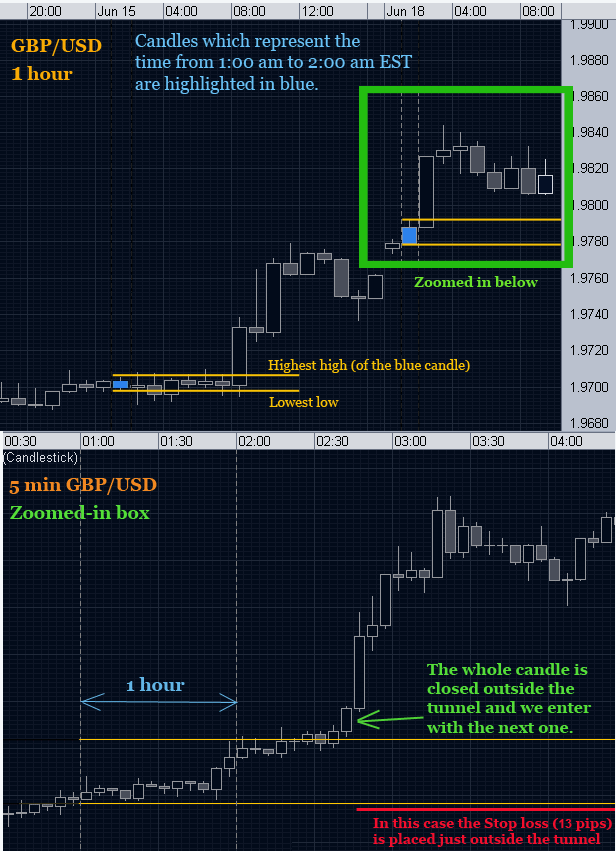 We are aiming at at least 20 pips profit. After that we have several options: lock the profit in, start "chasing" the price
with a trailing stop by placing the stop just below the lowest low of the previous 5 min candle, or simply exit within
the three consecutive hourly candles from the moment the trading order was filled.


Thanks a million
K.

PS: DON'T MISS THE "FIBONACCI MYSTERY" LAUNCH... you will be very happy of the results, I promise!